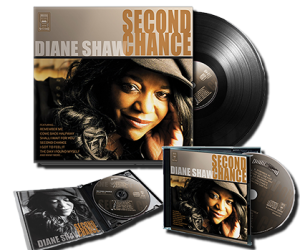 Toby Walker - SOULWALKING.COM
✭✭✭✭✭
…'A National Treasure'……'The woman and her team, are, quite simply, superb!'
Is it really 3 years since Diane Shaw released her debut album 'Love, Life & Strings'? Yikes! Time really does fly.
That album embedded itself into most of the better charts, for a large part of that year, and quite rightly so. In the same way the group Soulutions, just get on with making the music they understand, and love the most, the same applies to Diane Shaw. At times her sound is set in an early Seventies, Detroit Spinners-esque vibe, and then she sneaks in to a Sixties mode, before returning to her Real Soul pastures, musically. Wherever Diane lays her hat, she fully embraces the term 'song-led'.
Her songs are not pastiches or remakes, but are very much melodies in their own right. I nearly didn't make track 3 on this album, after first listening to 'Through The Rain' (track 2). What a true beauty.
One of 2018's finest, thus far, and I am sure I will be saying likewise come the end of November this year. Folks don't make music of this high standard in pop's mainstream, so I think I will reside in Soul Music's 'quality slipstream' this year, if the music is going to be of this standard.
'Second Chance'? There should be no question of 'chance' involved in future recordings by this fine singer. She put be placed firmly on the U.K. obligatory musical curriculum! A national treasure!
Now, not forgetting there are 11 further songs following 'Through The Rain', cherry picking is a hard task, as I honestly, love the overall product here. '(Come Back) Halfway' will become a live show favourite, I am sure. I really love the mid-seventies sounding 'Love Has No Right', a song out of it's era today, however, would have been a hit in those times, and should be in 2018. It's a shame the hallmark of a good record today, is that it isn't a huge pop hit! The penultimate 'Shall I Wait For You' sits perfectly in the albums 'departure lounge'. An 'end of the night' melody, which is a quite moving listen, all told.
Folks like myself, and yourselves (if not the case, what are you doing at this site in the first place! :))) will not be able to have enough of Diane Shaw albums in years to come. More power to her elbow, is all I can say.
The woman and her team, are, quite simply, superb!
Highly recommended.
Soultracks USA

'..Fantastic new music from the great Diane Shaw — Listen to "All or Nothing" on SoulTracks!….."
Diane Shaw made quite a memorable impression with her 2015 debut album, Love, Life & Strings. Now, the vibrant UK vocalist is gearing up for the February, 2018, release of Second Chance.
Taking a slightly more laidback direction this time around with the grooves (still replete with organic strings and rhythm section), she's bringing the same amount of sincerity and passion to the table—as evidenced by the mellow and heartfelt "All or Nothing." The summery midtempo track opens with mellifluous sax riffs and leads into nostalgic verses laced with dreamy guitar shadings and keyboard layers complimenting Shaw's no-frills delivery, at once charming and frank. Take a listen to the track below and let us know your thoughts!
Joerg Schmitt - Sonic Soul

'..Soul-Soul, with Style and Decorum. ….in a Class of its Own…. a Sonic Soul Recommendation….."
Soul-Soul. Mit Stil und Anstand. Diane Shaw ist auf der britischen Insel seit Jahr und Tag eine feste Größe, wenn´s um den ganz soliden Soul-Background geht. Ihr Debut-Album fasste vor 3 Jahren ihre Fähigkeiten in bester Manier zusammen – mit der "Second Chance" setzt sie aber noch mehrere Pluspunkte drauf. Retro-Soul mit Ach und Krach ist an der Tagesordnung – von überall schallt es bodenständig, renitent und ungeschliffen aus der Schwarz-Musik-Kiste. Selbstredend immer mit Herz und Seele, aber ohne Charme und Eleganz. Und hier schreitet Diane Shaw durch die Manege, lächelt großzügig und lädt ein zur Wohlgemuth-Soul-Show der Extraklasse. Bestes Entertainment auf Basis perfekt abgelieferter Songs, die Hooks und Content bringen, zudem schwelgerisch produziert und arrangiert sind und genau jene Art von Gefühligkeit auf´s Parkett zaubern, die jedwede Alltags-Situation durch Licht und Wärme verbessern. Immer gültiger Pop im wahrsten Sinn des Wortes. Natürlich ohne Schwachstellen, natürlich mit Show und Effekt, natürlich eine SonicSoul Empfehlung.
SoulandJazzandFunk.com
✭✭✭✭✭
…'A set that Surpasses the excellence of 'Life, Love And Strings"……'one of UK soul's best kept secrets!'
By now every self-respecting soul fan should be award of Ms Diane Shaw. The UK singer has been an in-demand session singer and live backing vocalist for many, many years while her 2015 long player 'Life, Love And Strings' was both critically acclaimed and commercially successful. Indeed one soul commentator went as far as describing the album "the best soul set of the 21st century so far!"
How on earth can you follow that up? Well, quite simple really – offer more of the same. Select some proper songs (you know ones with memorable melodies, meaningful lyrics, beginnings, middles and ends), arrange and produce them sympathetically, use real instruments wherever possible and allow one of the best soul voices in the business to do its stuff. In essence, that's what 'Second Chance' is all about.
The long player is a 13 tracker and though it's an overused cliché, there's isn't one dud amongst them. That said, it's clearly churlish to cherry pick standouts and highlights. Each cut offers up its own treasures but here's a selection to give you a flavour of what to expect. Here at SJF we've always been big, big fans of the songs of Jimmy Webb and we were really excited to see that Diane has included a rarely recorded song of his on 'Second Chance'. Tune in question is '(Come Back) Halfway and it's a true delight – like a Fifth Dimension classic. We're told that Webb wrote the catchy song during his tenure with Motown (just before he broke through) and the surprise is how Berry Gordy let this one get away… kind of proves he wasn't always right!
Gordy also let Holland-Dozier-Holland get away (he didn't have much choice) and Diane offers her version of one of the mighty trio's songs here. It's 'Remember Me', which, I think, H-D-H penned for Laura Lee and here Ms and her team turn in a performance that Eddie, Brian and Lamont will, I'm sure, be proud of. It's one of the album's up-tempo moments; one of the memorable slower items is a reading of Michael McDonald's 'Someone Like You. Then there's the ab fab burner 'Through The Rain'.
But hey… we weren't going to cherry pick! So enough …. suffice to say that 'Second Chance' is every bit as good as its predecessor so the pundit who made the above grandiose "21st century" comment might well need to re-think. We'll just say that already in 2018 we'vem awarded five stars to two albums – James Hunter and Sir Wick. Now here's our third!"
(Bill Buckley) 5/5
Bill Randle - The Science of Soul
….'it's always tough to follow a very successful debut, but Ms Shaw as managed to pull it off…'
My first Featured Album of 2018 comes from UK soul lady Diane Shaw, This follow up to her well received debut album (Love, Life & Strings 2015) this though is aptly titled "Second Chance" it's always tough to follow a very successful debut, but Ms Shaw as managed to pull it off. I think this lady will grow in stature as the years progress a great voice and classy performer. I have selected 3 tracks that I really enjoy but it was a tough choice its a great album.
Cloud Jazz - Podcast
Paul Miller - BBC Radio Soul Show
'This album is going to be so successful..
100% feel-good with old school values, yet fresh and contemporary…'
Paul Miller introduced Second Chance on his renowned BBC Radio Solent show for the first time this week, with great praise for it. Track 2 on the show.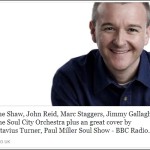 .
Sweet Rhythm Chart - Solar Radio
Gary Spence of Solar Radio interviews Diane Shaw about having the HIGHEST NEW ENTRY now at #10 on this weeks Sweet Rhythm Chart!!…'
The album 'Second Chance went straight in to the Solar Sweet Rhythm Chart this week. Listen the great interview with Gary Spence of Solar Radio….
https://www.mixcloud.com/garyspence798/gary-spence-sweet-rhythm-show-mon-29th-jan-interview-with-diane-shaw-2018/