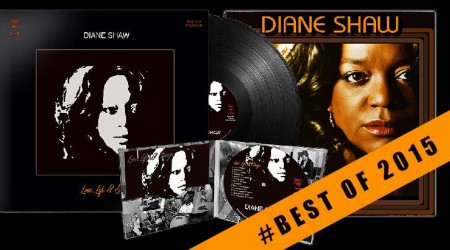 After the phenomenal success of the Diane Shaw's debut album released in the UK in June 2015, the end of the year brought the 'Best albums of 2015 lists' and we are very happy to announce the following accolades:
Craig Charles 'The Biggest Funk & Soul Stompers of 2015' Show on BBC6 Music chose 'Leave a Little Love' from the album 'Love, Life & Strings'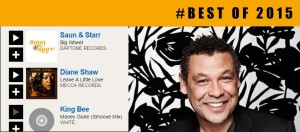 ---
SOULTRACKS USA present the '30 BEST Soul Albums of 2015′
Our good friends at Soultracks USA prove that Soul can travel back across the pond , and chose 'Love, Life & Strings' as one of their top Soul album releases of the year alongside such names as Jill Scott, Lianne La Havas, Adele, Tyrese, Kamashi Washington and more…
---
After becoming their best selling UK Album in 2015, Soul Brother Records in London awarded both the CD and LP versions of 'Love, Life & Strings' the top honour in their Albums of the Year alongside fantastic competition such as Daptones 'Look Closer' from Saun & Starr.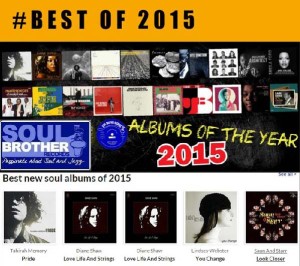 ---
As well as topping the UK Soul Chart for 2 weeks, the album spent over 6 months on the Echoes Magazine/Sweet Rhythms Chart in 2015. In the year end Top 50 Chart, it came in at No.7.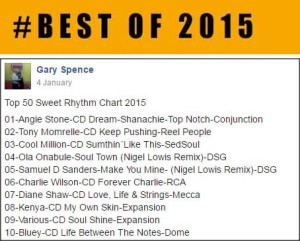 ---
Brian Goucher at UK Vibe Magazine, has Diane's track 'Today I started Loving you' from the Album, at No. 4 alongside Leon Bridges & Jill Scott, in his best of 2015 Chart.
---
Brian Hurst from SoulandJazz Magazine has Dianes's track 'Don't Promise me Sunshine' in his Hurst Selection Best Bits of 2015 Radio Show. It was also Album of the Week in the magazine back in August.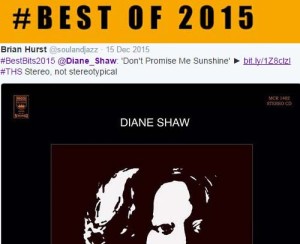 ---
#BEST OF 2015 – The Soul Explosion Show on ICRFM has 'That Thing You Do' in their BEST of 2015 Show
#BEST OF 2015 – Paul Miller on BBC Solent Soul Show has 2 tracks on his top tracks of the year show.
#BEST OF 2015 – Colin Curtis has 'That thing you do' in his BEST tracks of 2015 show on Starpoint  & Sunset Radio
#BEST OF 2015 – Rob James has 'That thing you do' in his Best of 2015 Soul Steppin Show on Secklow Sounds
.