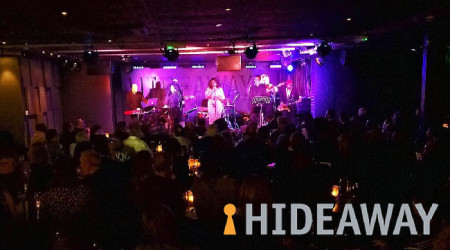 Diane Shaw performed her first Headline show of the year at the prestigious Hideaway Jazz Club in Streatham, London on March 5th.
Her first visit to the renowned venue was a real success, with a full house on the night watching Diane and her fabulous 7 piece band perform tracks from her #1 album 'Love, Life & Strings'.
Other Soul acts at Hideaway so far this year have been Mica Paris, Jocelyn Brown, Omar and Hil St Soul to name a few.
As well as Diane's band regulars, sax player Richie Garrison joined us on the night to compliment the usual high standard of musicianship we are lucky to have on every show, and Diane managed to get the crowd up on their feet and their chairs!
A big thank you goes to everyone who traveled far and wide to come to this very special London Show, another great night to remember, and hope to be back there again soon.