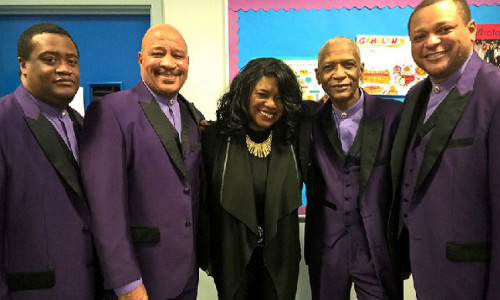 A childhood dream came true when Diane Shaw was truly honoured to be the support act for the Philly Soul legends THE STYLISTICS across the whole of their 2015 UK Tour.
Since the success of her #1 Soul Album 'Love, Life & Strings', world renowned Concert Promoter KENNEDY STREET asked Diane to provide support on 19 dates of their tour at major theatre venues across the UK.
Having grown up listening to thir music from the early 70s, Diane was over the moon to meet original band members Herb Murell, Airrion Love, and the long serving Eban Brown and Jason Sharp.
Diane, the crew (Jools and Ben from Eurohire), the band (The Style Orchestra) and the Stylistics themselves traveled throughout the month of November and met many of their lifelong fans, some of whom have been coming to these concerts for over 35 years!
There were some amazing venues on the Tour including:
Southend Cliffs Pavilion
Playhouse Weston Super Mare
Warrington Parr Hall
Isle of White Shanklin Theatre
St Albans Arena
London Indig02
Apex Bury St Edmunds
Liverpool Philharmonic Hall
and many more….
a truly memorable month, and we hope to see all the guys again real soon.
The Stylistics UK Tour 2016 begins on 28th October 2016 at the Gordon Craig Theatre, and tickets can be purchased  from Kennedy Street:
http://www.kennedystreet.com/the-stylistics/